Participant Profile
Investors Group
Established in 1926, Investors Group – whose headquarters are located at 447 Portage Avenue in Winnipeg – is home to over 1,200 employees in its 330,000 square foot commercial office space.
Investors Group is a subsidiary of IGM Financial. As such, they hold a strong commitment to advancing environmental sustainability within their business model, as outlined by IGM's Corporate Responsibility Strategy.
Investors Group's approach to environmental responsibility includes two overarching goals:
Reducing the organization's environmental footprint
Engaging their people to raise awareness and reduce their collective impact on the environment
Their Green Committee was formed as a collaboration between the Corporate Responsibility department, and the Employees in Action committee (a committee that oversees all of Investors Group's employee-run committees).
The Green Committee provides an opportunity for employees who care deeply about the environment to engage with other like-minded individuals and promote sustainability to the broader workplace.
Manitoba Race to Reduce Launches at Investors Group
On Wednesday, May 17, the Green Committee hosted an Energy Awareness Fair to launch their involvement with Manitoba Race to Reduce. Manitoba Hydro PowerSmart, Climate Change Connection and Manitoba Race to Reduce had interactive booths set up where Investors Group employees got a chance to receive a variety of energy saving tips.
Posters were placed throughout the building and email communication was sent out to all staff members inviting them to the lobby for interactive games and free promotional items, including lightbulb shaped cookies, smoothies, draws, and LED lightbulbs.
The event was a success, with hundreds of employees in attendance.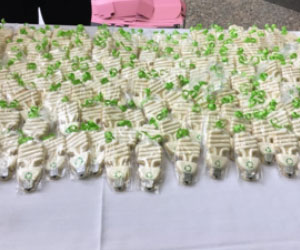 By being involved in events such Manitoba Race to Reduce, the Green Committee helps to motivate not only their own employees, but other businesses and individuals in the community. The power of numbers can be a catalyst to make sustainable actions go mainstream.
To learn more about Investors Group participation and their keys to success in the Race, check out their case study on the Manitoba Race to Reduce website.
Good luck Investors Group!